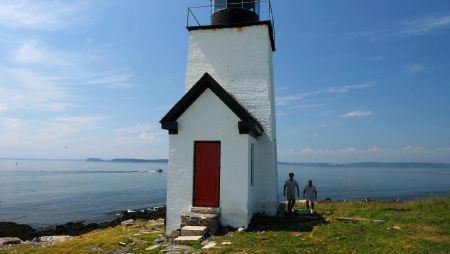 Nash Island Light today
Nash Island Light occupies a unique place in the history of Downeast, Maine. The lighthouse tells a story -- the story of the development of shipping and fishing along the mid-Maine coast in Washington County. Standing on Little Nash Island at the mouth of the Pleasant River off Cape Split, the lighthouse is a powerful symbol of the relationship between man and the sea. The light is important not only for its architectural features, but for the role it has played in the lives of the people of Addison, as well as those passing by.
Addison was blessed to number among its townspeople until she died in 2004 the daughter of one of the last keepers of Nash Island Light, John Purington. Genevieve ("Jenny") Purington Cirone, like the lighthouse itself, carried memories without which the town would be deprived of direct knowledge of its roots. It was partly out of fondness for Jenny (for years the owner of half of Little Nash Island, as well as neighboring Big Nash Island) that a lively interest in the preservation of the lighthouse spontaneously arose.
Jenny Cirone's captivating knowledge of wildlife, fishing, and life as the daughter of a lighthouse keeper made her perhaps the most valuable historical resource available to the Friends of Nash Island Light. She was the living connection between the remaining lighthouse structure and the history it represents. Jenny grew up in the home which was once an integral part of Nash Island Light Station, a home since demolished. The Friends of Nash Island Light seeks to preserve the last architectural vestige of a way of life, and in so doing, to revitalize the town's awareness and understanding of its past.
The value of Nash Island Light extends beyond the historical, for the structure continues to serve as a navigational aid to fishermen, yachtsmen and sailors. One of the unique features of the current structure is the fact that it is now "dark"; it has been replaced by a nearby flashing buoy as the U.S. Coast Guard's navigational aid for the area. Nevertheless, the lighthouse remains the principal feature off Cape Split for establishing marks by which to sail or to set lobster traps.