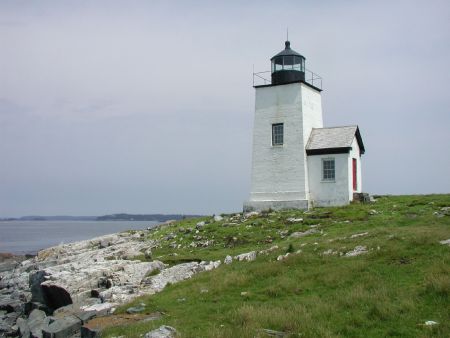 Nash Island Light, July 2006
Mission Statement
Our purpose is to restore and maintain the Nash Island Light.
History of FNIL
The Friends of Nash Island Light (FNIL) is a 501(c)(3) charitable corporation with headquarters in Addison, Maine. It was formed in 1996 for the express purpose of providing an organizing locus and focal point for the widespread community interest in the preservation of the Nash Island Light Station. The FNIL management is functional, simple and focused, in keeping with the purpose of the organization. Officers and Directors chosen are representative of the deep interest in the local community.
Board of Directors
Richard Miles

, President


Stonemason, teacher, writer, sailor.

Current board members 2019

, Les Coleman, treasurer, Gail Moorhouse, secretary, Alf Wakeman, Wren Wakeman, Elyse Rudner, Casey Graves, John Page, Harry Fish, Gray Miles, Jerry Metz
Contributors
Ed Greaves




Ed Greaves formed FNIL in 1997 and guided it successfully to securing possession of Nash Island Light from the U.S. government on the condition of restoring and maintaining the tower.

There have been many contributors. Below is an incomplete list of the faithful:




Connie Greaves Bates, Chuck Wakeman, Linda Thompson, Billy Thompson, Judy Purrington, Stan & Sheila Mitchell, Bill Varney, Donna Kausen, Oscar Look Jr., Marilee Lovit, Tim Moorhouse, Gail Moorhouse and the Leuthi-Peterson campers, Kim Perry, Gifford Ewing, Alf Wakeman, Wren Wakeman, Wesley Niebling, Nathan Hendrie, Arden Hendrie, Keith Fox, Elyse Rudner, Paris Hammond, Larry Nichols, John Page, Les Coleman, Spenser Beal, Gray Miles, Susan Hammond.